Welcome to Kent Public Address Hire - Sound, Lighting and Communications
Welcome to the home of Kent PA Hire for public address (PA), radio and audio visual (AV) hire and installation services for Kent and East Sussex. We are a privately owned business and provide a reliable professional service. As well as public address hire for events, we also provide sound installation and hearing loop installation in churches and village halls. We also install and support many church streaming installations.
We hire out public address, radio communications and audio visual systems in Appledore, Ashford, Canterbury, Eastry, Tonbridge, Bromley, Folkestone, Sandgate, Seabrook, Hythe, Margate, Broadstairs, Chatham, Faversham, Ramsgate, Dover, Deal, Sandwich, Romney Marsh, Maidstone, Medway, Hastings, and East Sussex.
Some of the events we can support are:
Conferences
Public meetings
Firework Displays
Fashion Shows
Sports Days

Festivals
Regattas
Equestrian shows
Charity Events
Motorsport

Award Ceremonies
Weddings
Summer Fetes
Vintage Shows
Horticultural Shows
For outdoor events, we have commentary boxes and trailers designed especially for this type of function. The commentary box has a worktop, and seating, as well as all the equipment needed for the event. We run our amplification from a battery power supply, and only use generators when essential. We also have trailer masts available to ensure site wide radio communications at your event.
Take a look at our Testimonials page for our customer comments and reviews.
Our events range from various classic vehicle events, show jumping arenas and rugby tournaments to air shows, firework displays for crowd control, civic ceremonies and Remembrance Day Services. Schools are well represented with their stage productions and also their sports days during the early summer throughout Kent. Indoor events include: local authority public meetings and seminars, corporate events in marquees to golf club dinners and fund raising quiz nights.
Conference Audio Visual
We are very busy throughout the year providing Audio Visual for conferences around Kent. We can provide Radio mics, Lecterns, links to Laptop for virtual conferences with audio and video, and a technician to ensure everything runs smoothly so you havent got to worry about the technology.
Falkland's 40 Commemoration Service
We provided sound for this memorial service on the 14th June. We supplied a lectern, Mic, power, and the hymns required for the service. It was great to see so many in attendance and were lucky with the weather too.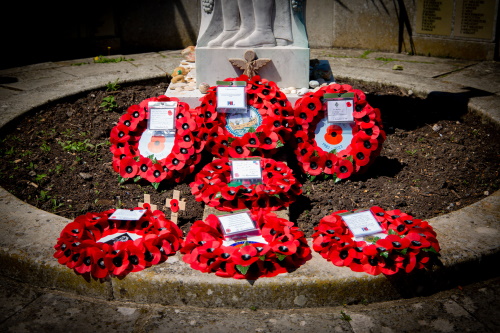 Bookings 2022 - June update
We are currently receiving a high volume of calls. Being a small team we are unable to answer all calls at the moment, and recommend emailing us with your enquiry. We will be back in touch as soon as possible. Thank you.
Boogie Box Trailer Stage
We have our "Boogie Box" trailer available for all kinds of events
- Covered or open air Stage suitable for small events. Ideal for country fayres, and fetes, Outdoor weddings and much more, with very quick setup
- Suitable for solo or duo singers, and small bands
- Can be hired with or without Sound and Lighting
- Our stage is Solar and Battery powered for small acoustic performances
- For larger sound and lighting systems there is an electric hook up
- Inside is suitable for Sound equipment, with a worktop, rack, and seating
This is available for hire throughout Kent. Please Email us for more information

Funeral Live Streaming and recording Services
We are very busy providing live streaming and recording facilities for Funerals during this difficult time in 2020/2021.
We have vast experience of being discreet, and providing a friendly and reliable service.
We can Provide:
- Live streaming and or recording, with a private link online and DVD's
- Outdoor speakers at the church so more people can attend outside
- Screens inside and outside for photos / videos / so people can watch the service from outside
- Music in church at the start of service, during the service and at the end if required
We have worked at many churches in Kent.
Church Streaming Services
We provide installation of streaming services for churches. Take a look at our Church Streaming page for more information. We have installed and worked with many churches in the South East to install reliable good quality automated streaming services.

Here is an installation which took place on the 7th November 2020 at St Francis de Sales Catholic Church in Hartley. We worked closely with the parish to install live streaming. We installed 2 cameras at the church to provide a zoomed shot of the altar, and another wide view of this lovely church. We also installed the audio equipment required for the stream and configured everything. The church has a wireless point to point link back to the presbytery for internet access.
The church also has a large TV in another room, which we connected up so the service can be displayed on it, as well as used for presentations in the future.
Here is a link to the live stream for this church
Installation Services
We install and maintain many systems in Kent, including Village Halls, Schools, Leisure Centres, Council Chambers, and Heritage Railways. We have carried out and support many churches in Kent. We have vast experience with Public Address, indoors and outdoors, including Hearing loops, and recording facilities. Contact us for a free site survey, and Project proposal. Tel (01303) 242085
Event Case Study - Weekly "Drive in" Church Service in Medway during Summer 2020
We are very pleased to be helping a church in Medway provide sound for Sunday Mass. One half of the car park is for cars to drive in and listen to the service, and the other half for people socially distanced. We provide sound suitable for a large car park, and our own power.
Event Case Study - Wreath Laying Service - Dover Patrol Memorial 19/7/20
One of our yearly events is to provide sound for a Wreath Laying Service at the Dover Patrol memorial, St Margaret's-at-Cliffe near Dover.
This year because of social distancing things were slightly different, but the service went ahead with a slightly different format.
We provided sound, audio clips as no band was able to be present, our own power, and also recorded everything so it could be viewed by others on YouTube.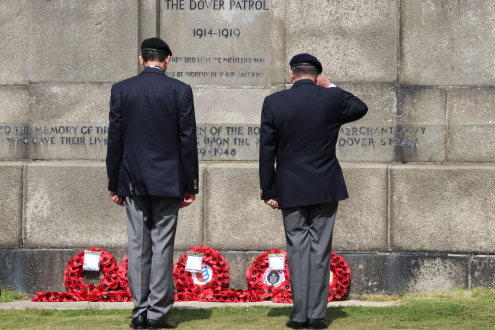 Event Case Study - Remembrance Day 2019
We cover many services in Kent and Surrey for this special day.
We supply a wide range of speakers, microphones, all run from Battery power supplys.
Picture below is from one of our regular services in Hythe.
Event Case Study - Folkestone Armed Forces Day 30th June 2019
We provided audio coverage along The Leas in Folkestone for Armed Forces Day 2019. A large project to ensure good audio for the commentary and public announcements.
We also provided Academy FM an audio feed so it could be heard live on air.
Radio communications was supplied to the organisers, including a repeater with trailer mast to ensure good coverage.
On some events we provide live streaming online so if you are out of range of the public address system you can listen to the event commentary on your mobile / tablet. Click here to launch the online stream